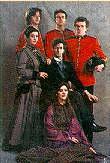 All of the cast have improvised as Comedy Store Players on the stage of the London Comedy Store, said to be Britain's unofficial National Theatre of Comedy. They are:
Josie Lawrence
Best known for her role as Richard Vranch's singing half on 'Whose Line is it Anyway?', she is also a well-known actress, having appeared in many television programmes, films and as Kate in the Royal Shakespeare Company's "Taming of the Shrew".
Phelim McDermott
Relatively unknown until he appeared on the Masterson Inheritance, he has made his television debut in a pilot comedy programme "Woodcock", playing the title role. He was the co-director of "The Quest for Don Quixote" at the 1996 Edinburgh Festival, and appeared in his own play "70 Hill Lane" with Improbable Theatre.
Paul Merton
Award-winning comedian, writer and improviser, best known for his team captaincy on "Have I Got News for You". He has also had his own comedy show, and presents Room 101.
Caroline Quentin
Paul Merton's wife at the time of the Masterson shows, although they have now split up. She is now coming into her own as a comedy actress, for her portrayal of Dorothy in "Men Behaving Badly". She has also appeared in "An Evening with Gary Lineker", both on stage and on television, and was in the original cast of "Les Miserables". She was Britain's answer to Dana Scully in the TV show "Jonathan Creek", was also in "The London Cuckolds" at London's Lyttleton Theatre.
Lee Simpson
"The other one" from Paul Merton the Tour (Paul himself and Richard "Susan" Vranch being the others), Lee has appeared as a policeman in "Nuns on the Run", and has had bit parts in various TV shows, including a starring role as Terry in "Terry and Julian". He has also been a breakfast DJ, and directed Phelim's play "70 Hill Lane", with Improbable Theatre. He also appeared in "Scissor Happy" with Jim.
Jim Sweeney
One of Britain's original improvisers, he is one of the foundations on which "Whose Line" is built. Although Lee did the narration for most of the Masterson Inheritance, Jim can be heard narrating for the "Masterson's Magical Marquee" programmes. He is was also involved with "Scissor Happy".
P.S. If any of the Mastersons read this, hope I have not missed anything too obvious out! We aim to please.