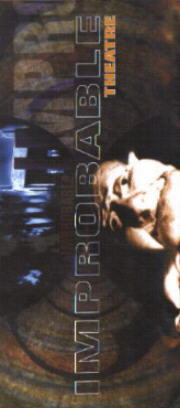 Set up in 1996 to create impro inspired shows, Improbable Theatre's first two productions, ANIMO and 70 HILL LANE, have already gained far reaching international recognition with invitations to Egypt, Malaysia, Belgium, Germany, Greece, Canada and Holland. 70 Hill Lane has won several major awards, including the 1997 Time Out Award for Best Off West End Production, Best Performance at the Cairo International Festival for Experimental Theatre and The Manchester Evening News Award for Best Fringe Production.

These shows have grown out of a way of working which has been developed over the years. This meant being prepared to create shows by the seat of your pants. Something special can happen when you allow the audience to have an integral part in the creation of a show.
We shall continue to take this risk until we are found out.
Click here for current news, including details of Cinderella, now showing at the Lyric Theatre in Hammersmith. Also in the pipeline is an official Improbable Theatre website, which I will link to as soon as it is live.








This is an unofficial web page, designed and run by the High Priestess. Many thanks to Improbable and their graphic designer Steve Williams for their help with information and pictures.

For further information about Improbable Theatre or to join their free mailing list, contact them at:
Improbable Theatre, c/o BAC, Lavender Hill, London, SW11 5TF
Tel: +44 (0)171 978 4200, Fax +44 (0)171 978 5200.
or fill in this form to send your details via e-mail.

Comments regarding this web page should be sent to the High Priestess.



Other pages in The Oracle of the High Priestess include
The Comedy Store web page
The Mastersons Magical Marquee - the Masterson Inheritance web page.





Click here for information
Back to the Title Page
LinkExchange Member
---
This Improvisation Webring site owned by High Priestess.
[ Previous 5 Sites | Skip Previous | Previous | Next | Skip Next | Next 5 Sites | Random Site | List Sites ]