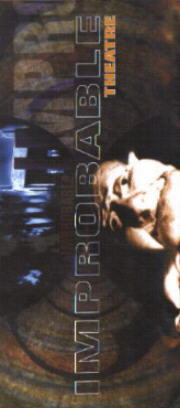 Niall Ashdown
Niall is a writer, improviser, and/or actor, depending on who he's talking to. Theatre credits include: EXPOSITION (Arts Theatre), COURT IN THE ACT (Watford Palace Theatre), ANIMO (BAC), AN EVENING WITH GARY LINEKER, THE HUNCHBACK OF NOTRE DAME (West Yorkshire Playhouse), and IMPROBABLE TALES (Nottingham Playhouse). Niall is a frequent guest with the Comedy Store Players and is a member of improvisation group Spontaneous Combustion. TV credits include: 2 series of WHOSE LINE IS IT ANYWAY? (C4), CONFESSIONS (BBC1), JACKANORY (BBC1), DROP THE DEAD DONKEY (C4), SMITH AND JONES (BBC1), and can soon be seen in the sketch show BARKING for Channel 4. On radio Niall has been heard in LOOSE ENDS, A SQUARE OF ONE'S OWN and NORTH EAST OF EDEN (R4), KALANGADOG JUNCTION (R2), THE BACK PAGE on Radio 5 Live and he is the manager of Teeside's Voice of Sport, Derek "Robbo" Robson, 5 Live's THE TREATMENT.

Angela Clerkin
Angela is an actor, writer and Irish dancer. Theatre includes: A CHRISTMAS CAROL (The Lyric, Hammersmith); THE GOVERNMENT INSPECTOR (West Yorkshire Playhouse); HEDDA GABLER, EAST, THE SHADOW OF A GUNMAN (Leicester Haymarket); SCHOOL FOR WIVES (Library Theatre, Manchester); A FLEA IN HER EAR (Old Vic, London); METAMORPHOSIS (Contact, Manchester); GAUDETE (Almeida Theatre, London); LES MISERABLES (Nottingham Playhouse); PETER PAN (Drill Hall); NOTHING COMPARES TO YOU (Birmingham Rep); HEARTLESS (ICA); THE COLONY (Salisbury Playhouse); and Feathers McGraw in WALLACE AND GROMIT'S A GRAND NIGHT OUT (Sadlers Wells, UK Tour). Angela was a co-founder of the Hairy Marys and Clerkinworks - an Irish comedy/dance company with whom she has written and performed sketches for TV, Radio, Comedy Circuit and toured throughout the UK and Ireland. Television and Film includes: ABSURD (Pop Video); THE VACUUM (Channel 4); EQUINOX; I DON'T (NSFT); MUSIC MAKERS (BBC); STANLEY AND THE WOMEN (Central Television) and VAN DER VALK (Thames).

Julian Crouch
Julian has been a director, designer and maker with a number of companies. From 1985-86 he designed for Trickster Theatre Company, including such shows as: ALICE, THE MEMORY GATE and CHARIVARI. In the following years Julian specialised in site specific design including seventeen productions for Welfare State International. In 1992 he began a successful creative partnership with Phelim McDermott, for whom he designed DR FAUSTUS, IMPROBABLE TALES, THE SERVANT OF TWO MASTERS and THE HUNCHBACK OF NOTRE DAME (which earned him a T.M.A. nomination for Best Designer of the Year). In 1994 he co-directed and designed THE QUEST FOR DON QUIXOTE which received a Best Design Nomination in the London Fringe Awards. Most recent collaborations with Phelim McDermott include 70 HILL LANE and ANIMO for Improbable Theatre and co-direction on A MIDSUMMER NIGHT'S DREAM for the English Shakespeare Company and SHOCKHEADED PETER for Cultural Industry.

Guy Dartnell
Guy is a director, performer and teacher who specialises in improvisation and voice/movement synthesis. He co-founded Impro Cafe and Voxall Bridge. His own creative work has recently involved touring his highly acclaimed solo show BOTTLE (A VOIDANCE) through Britain and Germany, and co-directing a number of inter-disciplinary collaborative projects - SLICK AND SLOPPY with choreographer Cindy Faulkner, EXTASE with director Michael Dick and PHYSICALLY SOUND with composer Ben Park. His association with Phelim McDermott, Lee Simpson and later Julian Crouch, goes back ten years and includes productions such as 70 HILL LANE and ANIMO for Improbable Theatre, THE GOVERNMENT INSPECTOR (West Yorkshire Playhouse), IMPROBABLE TALES and GET OFF MY FOOT (Nottingham Playhouse) and THE GHOST DOWNSTAIRS (Leicester Haymarket). He has also worked with the likes of Meredith Monk, Commotion, Second Stride, Tmu-Na, Franki Anderson and Louder than Words, and he is an associate artist with the International Workshop Festival.

Stella Duffy
Stella has written three crime novels published by Serpent's Tail. Her first non-crime book SINGLING OUT THE COUPLES was published by Sceptre in spring 1998. She has written twelve short stories, a radio play THE ECONOMIES OF JUSTICE, and CLOSE TO YOU a one woman show for actress and singer Sarah Davison. Since 1989 she has worked with impro company SPONTANEOUS COMBUSTION on the comedy circuit, in radio and an awful lot of "corporate entertainment". She has also performed with Eddie Izzard in two series of improvised comedy shows at the Ambassadors Theatre and at the Royal Court. TV work includes SPATZ, THE SECRET and THE BILL.

Olly Fox
As a Composer and Musical Director, Olly's recent theatre work in London includes DEAREST DADDY, DARLING DAUGHTER (The Young Vic) and CINDERELLA (Unicorn Arts Theatre). Before this, Olly lived in Manchester where he worked extensively at Contact Theatre including MOTHER COURAGE, A MIDSUMMER NIGHT'S DREAM, GULLIVER'S TRAVELS (co-production with Walk the Plank), and MILL ON THE FLOSS. Also THE WASP FACTORY and BUT THE LIVING ARE WRONG IN THE SHARP DISTINCTIONS THEY MAKE (Northern Stage, Newcastle Playhouse). Other work includes ALWAYS BELIEVE IN (Assistant Composer for the Royal Opera House), THE BIG SPLASH (Walk the Plank), CAUCASIAN CHALK CIRCLE and VINEGAR TOM (Arden Theatre School). Olly directed LAND with the Eritrean Community Theatre Project in Asmara, Eritrea, toured western Ukraine with Chervona Kalnya playing clarinet, and played for many years with the Railtown Bottlers (one time International Street Entertainers of the Year) and House Band oh the BBC's DANNY BAKER AFTER ALL. Olly trained at Manchester University Drama Department and Bournemouth University in Music Design for Film and TV.

Colin Grenfell
Colin lit and toured with 70 HILL LANE and ANIMO, then went off to get a "proper job", and then decided he didn't like that too much so he's now back on board for LIFEGAME. Colin has worked at the Barbican and the Royal Court Theatre Upstairs as Deputy Technical Manager; other designs include BODYTALK, MIDSUMMER NIGHT'S DREAM, WEST SIDE STORY, ROMANIA'S BABY, THE PROVOKED WIFE, BOUNCERS and GOD.

Keith Johnstone
Keith is a Professor Emeritus of the University of Calgary. He formed and was artistic director of the Loose Moose Theatre Company. He has written many plays, and wrote the internationally acclaimed book IMPRO. He was the director and founder of the legendary improvisation group Theatre Machine.

Phelim McDermott
Phelim has been directing and performing for over twelve years. His first work was for dereck dereck Productions which he co-founded with Julia Bardsley. He performed in CUPBOARD MAN, a solo show for which he won a Fringe First. He then co-directed and performed in GAUDETE for which he won a Time Out Director's Award, going on to direct THE VINEGAR WORKS, THE GLASS HILL and THE SWEET SHOP OWNER. He has directed a number of shows in repertory theatre including: THE GHOST DOWNSTAIRS at Leicester Haymarket and DR FAUSTUS and IMPROBABLE TALES (a totally improvised two hour play which ran for four weeks) at Nottingham Playhouse. At the West Yorkshire Playhouse he has directed THE SERVANT OF TWO MASTERS, THE HUNCHBACK OF NOTRE DAME and, most recently, THE GOVERNMENT INSPECTOR. During 1996/1997 he directed A MIDSUMMER NIGHT'S DREAM for the English Shakespeare Company, which won a TMA Regional Theatre Award for Best Touring Production. Other projects include GET OFF MY FOOT, a play he co-wrote and appeared in with Lee Simpson. His first productions with Improbable Theatre were 70 HILL LANE and ANIMO. He most recently co-directed SHOCKHEADED PETER with Julian Crouch, a junk opera collaboration with the Tiger Lilies, which tours from March 1998.

Ben Park
Ben studied at the Royal College of Music and has a degree in Zoology from University College London. Between 1986 and 1991 he played and co-wrote with the band The Neighbourhood and toured with the Christians and Simply Red, co-producing their album A CERTAIN ATTITUDE. During 1992 he composed and performed the score for a BBC2 six part documentary series SHAKING THE HEAVENS In 1993 Ben established the inter-disciplinary performance based group, Three's Company with the animator Damian Gascoigne and the dancer/choreographer Fin Walker. To date they have completed two major works, both premiered upon the rooftop of the South Bank Centre as part of the Great Outdoors festival; SET THE NIGHT ON FIRE and TWO STATIONS. Their next piece RIDING OUTSIDE THE LAW premiered at the ICA in Autumn 1996. Other completed projects include; FORGOTTEN VOICES with Fin Walker, STATE 51, the Internet site,THE BIG CHILL with State 51, A PLACE WITH THE PIGS, Chamber Prods, THE WIZARD OF OZ at Clwyd Theatre, CYBERPUNK, MTV series, Cynthia Rose, X-L-R Middx. Univ. Dance, MRS DRAKE PROCEEDS TO SUPPER with Heather Rutland, A-VOIDANCE, a solo by Guy Dartnell, and MEDICINE DANCE, choreographed by Keith Brazil.

Lee Simpson
Lee grew up in Great Yarmouth by the sea, where he found gainful employment cooking burgers in a Wimpy, as a croupier in a casino and as a cinema projectionist. Unable to get a proper showbiz job he became an improviser, performing with any improvisation group that could be bothered to ask him. The money was bad but there was precious little work involved and the people seemed nice. Since then his activities might (if you were being kind) be described as diverse. These include appearing twice a week as a member of the Comedy Store Players; writing plays with Phelim for the Nottingham Playhouse and the Royal Court; appearing in some sit-coms - TERRY AND JULIAN, DROP THE DEAD DONKEY; co-devising and narrating THE MASTERSON INHERITANCE for Radio 4, for whom he's also done stuff like JUST A MINUTE and QUOTE UNQUOTE; directing - most recently 70 HILL LANE for Improbable Theatre; acting in some proper telly drama and films - FAMILY MONEY, BLACKEYES, QUEEN OF HEARTS, PAPER MASK, NUNS ON THE RUN, performing a very poor poodle act at the London Palladium; and spending six months as a Breakfast Show DJ. It is this lack of direction that he feels is the real essence of his work.

Steve Tiplady
Steve is an actor/puppeteer who has worked with Faulty Optic and Moving Stage, as well as creating his own shows PINNOCHIO and HAMLET for Indefinite Articles. Most recently he was puppeteering in HOUSEWORKS for part of the Out of Lift Festival '96 and KITCHEN OF LIFE which he also co-devised for Sold Out Productions.

Back to the Main Page