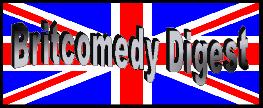 18th to 25th August 1998
Jump to:
AUGUST
18th - Boom Boom...
19th - Comedython
Amnesia....
20th - Welcome Back...
21st - Sattiva
22nd - Red Red Wine
23rd - Deluge
24th - Better Late than Never

25th - New Day Dawning
---
This morning begins with bathtime - so far I have only had showers, so my first bath brings with it the discovery that the peat-rich water makes your bath look like someone has, to put it delicately, "relieved themselves" in it. The addition of bath oil makes it look like murky half-fermented white wine, which is slightly more bearable so I have a bath.

Breakfast cum lunch is in a restaurant called EH1 - nice meal of pasta with wild mushrooms, basil and cheese. Bannerman's as usual around 3pm for the hot chocolate. We see Si'n off at the train station as she has to go back to work at the hugely exciting Luton Airport. ZoŽ was out until the wee hours with some people from the Cafe Royal and has lost her voice - apparently some "lurgi" has been going around - the new epidemic is dubbed "Screaming Blue Murder Flu".

I am the only one of us to be seeing a show tonight, so I toddle off on my own to see Boom Chicago. Meet the others later to enter a pub quiz in an attempt to win more free beer, but the questions are pitched at people much older that us, and we only get five out of the ten top names for goldfish in the UK.
---
We meet in the Cafe Royal and decide that tonight is going to be the night we do the Big Value Comedy shows - eight London circuit comedians for £12, split into two £6 shows - if you do both in one night you get a free t-shirt.... and they also have a two for one beer promotion. Good value indeed. We are going to see Citizen Cain beforehand, so will be seeing shows from 6pm until 12.30 am, with one and a half hours of breaks - this is what Edinburgh is all about - packing as much comedy and beer into your time as possible.

Our usual bolt-hole in Bannerman's is being converted into space for a band on this evening, so we and our precious sofa are moved into an adjoining room.

Time passes....

It is now 1am - I am very tired indeed, so you will have to wait until tomorrow for the reviews - sorry. Very good shows though.
---
Sorry about the delay.... have been spending a lot of the last few days trying to sort out some serious system errors on my laptop, which seems to be due to some kind of intermittent memory fault. Normal service will be resumed as soon as I work out what is normal. Stay tuned... 'tess.
---
Walking up the High Street I bump into some of the chaps from Big Value Comedy handing out flyers and we have a nice chat, in between tubs of free ice cream being handed out. Apparantly Noel James was a bit worried by me taking notes during the show the night before - curse my poor memory... he is also not pleased as "The List" has said that the "future of comedy" is "fat and Welsh" and his name is Neil Jones... whoever he is. I am taking the night off from seeing shows to try and fix the computer problem.
---
Today I have promised to go to see Andy Smart's show - "The Dope" - he compered for a charity show I did last year and was very good, so I am looking forward to it. Some more friends of ours, Jen and James have turned up, so we are taking them to see Late and Live despite the fact that Jen has been up since 5 am travelling here. That was an interesting night - read the review and see.
---
More swearing at the laptop this morning - the problem now appears to be an intermittent memory fault and I think I can work around it. I have sold Big Value Comedy to Jen and James so well they have convinced me to go with them - making me probably the only person to have paid to see both shows twice in one week. Lunacy. Great fun though. After the show in the bar at the Cafe Royal ZoŽ makes an expansive gesture and knocks red wine all over Dave. They go home so he can change. We later get a hilarious pager message, something like "Dave has no spare trousers - am not coming back" which apparently had the woman from BT in stiches...
---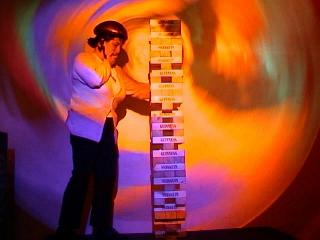 Yesterday was lovely but today is rain, rain, rain. We were going to do the Underground City tour today but are all feeling a bit damp and sorry for ourselves, so spend the afternoon touring various cafe's and bars and sitting in the warm. Have another go at Jenga - this time with a psychedelic spinning background. Note the cycle helmet - losing at this Jenga could be hazardous to your health...

We see Phillip Jeays in the evening - however he is not my cup of tea at all - overly intellectual songs in a West End Musical style - maybe I'm being a bit harsh, lots of people have said they loved it, but not for me I'm afraid.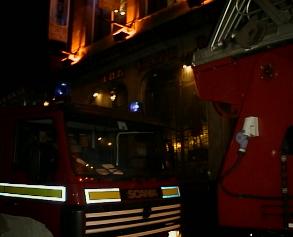 We spend the rest of the evening in the bar at the Cafe Royal, apart from the fire alarm though... We all traipse out into the cold and applaud as four fire engines turn up. No fire. We all go back in.
---
Spent most of today trying to print out some stuff to give to the Fringe Press Office, and when I finally get there they've shut. Damn. Will have to go first thing in the morning. Apart from that I did a bit of window shopping, and we enter yet another pub quiz in the evening - easier questions this time. I have to go before we find out if we've won as I am suffocating in the smoky pub. Want to get up early to go to the Fringe Press Office anyway.
---
Spend a day doing my own thing for a change - finally found the only Lloyds Bank in Edinburgh and pay some birthday money cheques in as there is a jacket I've had my eye on... buy the jacket. Just as well - it starts to rain.

Unfortunately this life is not doing my atopy any good - the skin on my thumb has cracked and is hurting like hell. I am now so thirsty from all the walking around I go to the Cafe Royal for a pint of lemonade. It's very quiet as all the Screaming Blue Murder shows are having the day off. I then go to C on Princes Street to see Planet Ex.

I stop off to buy a patch for my sleeping bag - since all the Guide Badges were sewn onto it many years ago it has become my goal to cover it totally with badges of places I've been - so Edinburgh is added. I'm nearly half way down one side.

This evenings show was to have been the Cosmic Tambourines but they've decided to have the night off too, so I decide to do some serious hanging out. Off to the Pleasance and find some people I know from the Cafe Royal, then some of us go to Late and Live and stay until 5 am before I finally walk home. Dawn is just beginning to break and everything is quiet.
---
Back to the Diary Index Page