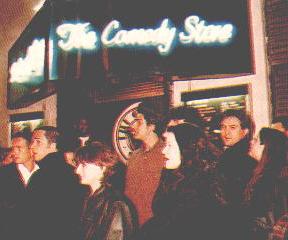 1a Oxendon Street,
London,
SW1Y 4EE

Piccadilly Circus tube.

Show Information 0171 344 0234

Credit card bookings from Ticketmaster on 0171 344 4444 (Subject to booking fee) You can also buy tickets from Ticketmaster agents - including branches of Tower Records and HMV Records.


Tickets are also available from the box office, but there is only seating for 400 people and most nights sell out, so try to get your tickets as early as possible. Credit cards and Switch are not accepted at the Box Office.

Diner and Bar Information.

The Comedy Store is available to hire on Mondays for public use, e.g. parties, media, charity & corporate functions (with late licence). For further details, call their office on 0171 839 1862.

The Store is usually closed on Mondays, and also closes on Christmas Eve, Christmas Day and Boxing Day.

I don't work for the Comedy Store, I just do this page unofficially because someone should! Feel free to e-mail me with any questions you may have, but if you have any queries regarding booking the Comedy Store or appearing there, please contact them direct.

Artistes, shows and prices subject to change without prior notice. Minimum age 18 years.