---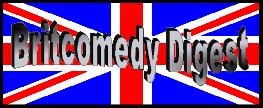 A monthly newsletter distributed on the Internet, Britcomedy Digest covers all aspects of British comedies -- radio, television, books, film, and plays. Subscribe to Britcomedy Digest and have it arrive in your emailbox every month!

"Excellent ... One of the best sites out there on the Net. You'd be mad to miss out on it."







.net guide to CompuServe
---
Welcome to the Britcomedy Digest Edinburgh Festival 1999 page!
BD's coverage of this year's Edinburgh Festival starts in earnest on the 18th of August and will be updated daily, so watch this space for news and reviews of the comedy offerings at Edinburgh this year. There is a diary entry and a poster already, if you feel like getting in the mood...
If you'd like to get nostalgic, have a look at the 1998 site.
---
---
This page is hosted at the Oracle of the High Priestess.

Britcomedy Digest (c) Copyright 1994, 1995, 1996, 1997, 1998, 1999 Melinda Casino, Michelle Street.
All rights reserved. Reproduction without permission is strictly prohibited.