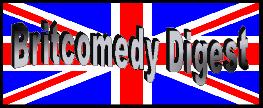 26th August to 1st September 1998
Jump to:
AUGUST
26th - The Loneliness of the Long-Distance Flyer
27th - Lurgi
28th - Why, Why, Why...
29th - Classical Gas
30th - Ditto

31st - Aces High
---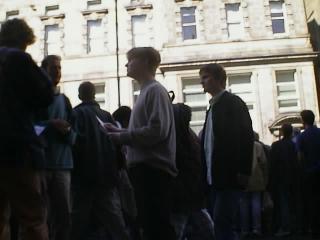 I wake up with the dreaded Screaming Blue Lurgi. Everyone except ZoŽ has now gone home and she is working at the Cafe Royal during the day, so I help out with flyering at the High Street. The performers have to do it but they don't like it much I think. Free Britcomedy Digest T-Shirt to the first person who can name one of the three stand-ups in this picture. One has his back to the camera I'll admit.

Find out the Perrier nominations - Ed Byrne, Al Murray (again), Tommy Tiernan, Peter Kay and Sean Cullen. Everyone seems disappointed that Adam Bloom didn't get nominated.

The evening's entertainment is provided by the Cosmic Tambourines - however they have a strange audience - no one laughs, no one boos, nothing. It's like they're dead. I can't write a review after a night with the audience from hell, so promise to come back another night.
---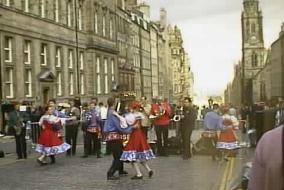 Lurgi is worse - very bunged up and sore throat. Decide to take it easy and do some flyering again. Also on the High Street are plenty of street performers, including these dancers, who I presume to be from the Russian Folk Circus. Another performer has his music on far too loud - at least the pipers space themselves out a bit.

Have a nap in the afternoon, then Cafe Royal again in the evening. Go out for dinner to Garfunkels and have an amusing time as Carey Marx, who has been desperate for a salad for hours, manages to drop a whole plate of salad on the floor. The staff were very nice about it though.

We get back too late for me to see the Cosmic Tambourines again, but as I have been flyering for them and there's a few seats left, the staff of the Cafe Royal let me in to see the end of Big Value Comedy, so I get to see Steve Best's act for the third time (must be some kind of record). Finally get his Haydn joke - must find out what that music is. Go home earlier than usual as the Lurgi is getting me down. ZoŽ and I are now out of money and food - she is going home on Saturday but I'm staying till Tuesday, so I'm hoping to get her job at the Cafe Royal for the last few days. Tuck myself up in bed with a mug of hot soup - hope the Lurgi is gone tomorrow.
---
Things are finally getting to me - wake up at 2pm. Feel much better today though. Very chuffed to find out that Baby Wants Candy have quoted a bit of my review on their flyers - I am a serious journalist at last...

ZoŽ's last day in Edinburgh so she is working until 6pm, so I sit in Bannermans for the hot chocolate and find someone else's paper to read. This evening I see the Cosmic Tambourines again.

Some of the artists from the Cafe Royal have invites to the Polygram Punters Award bash... the rest of us tag along with them and manage to gatecrash it. Lots of free sausage rolls etc., and strange circus artiste types on stilts with large codpiece arrangements - they seem to be enjoying prancing about anyway.

The winner is announced - Adam Bloom - a popular choice as many have said he should have been nominated for the Perrier. Pete Harris, the Screaming Blue Murder promoter has apparently got a lot of the comics to come by telling them he is going to do a stand-up routine, which he is now forced to do - and he's terrible. Finishes up with a rousing Karaoke "Delilah". I put my name down to do a song but don't get the chance as lots of people who are more famous than me do it. Oh well. Worth it to see Nick Wilty do "Burning Love" though.

Have got the job at the Cafe Royal for the last few nights - 6pm to 1am so no more shows it would seem, unless I can get into some early ones. It'll be nice to see the Festival from a working point of view though. There is something on at Bannerman's tomorrow night until 3am though, so I'll be there for the last bit of that.
---
Do a bit of shopping and then start work - taking of tickets, clearing up of bottles, stamping of hands etc - an usherette I suppose. Busy bits with time for chat in the quiet times, so quite fun to work. I'm used to working 9 to 5 in an office, so this makes a great change.

The Perrier is announced at midnight - news filters to us that Tommy Tiernan won, and The Mighty Boosh got Best Newcomer.

After the Big Value Comedy show is over and the bottles are cleared away some of us sit under the air conditioning and chill out - me tucking into cold MacDonalds chips (urgh) but having the pleasure of watching Noel James and then Steve Best showing off how they can play the guitar much better than I can - those of you who have seen Steve's act will know he plays a bit of classical guitar - he's happily chatting away to the others and playing some flamenco-style fiddly thing at the same time - I'm impressed and am content to sit and watch.

It's interesting to see them discussing their acts - trying new jokes or ideas out on each other. Steve Best got an encore today and didn't really have anything prepared - faffed around for a few minutes, but then he gets laughs just faffing around. He is now having all sorts of bizarre ideas about what to do for future encores.

They're off to some place or other to get some food and I start walking back to my flat - they offered me a lift which was nice of them, but it's only five minutes from the Cafe Royal luckily. I'm too tired to go to Bannerman's.
---
Much the same as yesterday - buy some presents for family in the early afternoon, then off to work. Kit and the Widow packed out as ever. JoJo Smith was not able to do yesterdays Big Value as she'd lost her voice - Carey Marx rushed upstairs after his show to do it instead. Tonight she turns up to do the show but is very hoarse - after a quick soundcheck she goes ahead with it and storms it - good for her.

Everyone is now very fatigued - it is awards party season this week and not many have been sleeping. Everyone is wandering around semi-comatose except for Steve Best who seems to have limitless bounds of energy... he tells me he has two brothers, an elder and a twin - he must have exhausted them when he was a kid.

Tomorrow is the last full day I am here - am getting a little sad about it all. It'll be nice to go home, but I've made some new friends and will be sad to see them all go. Katy from the Cafe Royal box office has a little autograph book and we all try to think of witty little messages to put inside. I hope to be able to catch up with some of them in the London comedy clubs - and I'll probably be back up here again next year.
---
Spend the morning tidying up, packing, and trying to find somewhere that sells washing powder so I can wash all the towels. Go to see Target Practice, not comedy but two monologues, very good indeed. Back out to find washing powder, bump into one of the acts from the Cafe Royal who tells me where Safeways can be found - buy washing powder. Then to work for the final time.

Everything is winding down - it seems that lots of people are travelling home today so the shows are not selling out as usual. I go running around the Backpackers' hostels with flyers trying to get more people to come. We still have a good time though.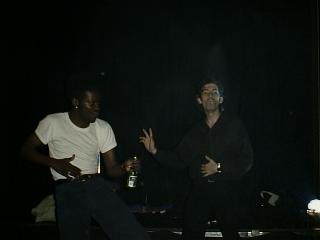 The Big Values are strange - everyone doing everyone else's sets, which is hilarious fun for those of us who know it all off by heart, but perhaps not so much fun for the audience - they laughed anyway though, and we didn't care any more. You just get a bit numb to it all at the end.
After the end of all the shows we all have a chinese delivered (at 12.30 am!) and tuck in, with bottles of Becks appearing from somewhere. The mass hugging and goodbyeing starts. Everyone larking around, great fun. Here are the two illustrious comperes, Steve K Amos and Andrew Pipe, showing us what cool dudes they really are...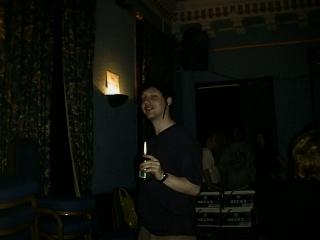 Steve K Amos' wig from Citizen Cain is passed around and we all get a laugh as everyone tries it on. This is Carey Marx from Dupe wearing the wig - sorry you can't see it very well, but I assure you he looked lovely in it...
I got a bit depressed last night as everyone else went off to a party or some such and I got to stay at home - Noel James knows this and when he, Steve Best, Addy Borgh and his girlfriend Lisa go home to play cards and drink tea he invites me along, bless the man. Thus my Festival ends in a very relaxed and companionable way - I even won a few games. I have to check in for my flight home at 9.20 am, so it is nice to have a way of staying awake - I daren't go to bed in case I oversleep. Taxi back to my flat to finish packing at 5 am.
---
Back to the Diary Index Page