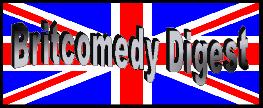 29th July to 17th August 1998
Jump to:
JULY -
29th - Prologue
AUGUST
10th - Now I Lay Me Down to Sleep...
13th - Happy Birthday to Me...
14th - Disillusionment
15th - A Room with a View
16th - Fly Fishing
17th - Into Cyberspace
---
The flight is booked, so no turning back... My old partner-in-crime ZoŽ (reporting for Comic Bible) and I have sorted out somewhere to stay, and have sent off the press forms. The web page is well underway (as you can see!), and coverage is due to start in earnest when I fly up on the 13th of August, which incidentally is my 25th birthday! I will be celebrating by going to see my old favourites the Stephen Frost Impro Allstars, who this year are Mr Frost himself, plus Steve Steen, Andy Smart and Richard Vranch. Should be a good show - tune in then to see the review.
---
My last few days at work - picked up the flight tickets today. Called ZoŽ who has already arrived in Edinburgh - apparently the accomodation is a bit of a disappointment as the previous tenants have "taken all the furniture that wasn't bolted down", and she has had to borrow a Hoover to clean it up a bit... if you saw a girl in an Edinburgh phonebox looking worried that someone was going to run off with the Hoover outside, now you know. I myself am not concerned - during my Guiding years I slept everywhere from in a plastic bag in a muddy field in Devon to the floor of a Hindu temple in India, and have learnt that a roof over your head is the most important thing - little things like furniture are mere luxury details.... ZoŽ has now seen Stephen K Amos' play and tells me it is very good - must see it while I am there. Have bagged my ticket for the Allstars on Thursday. Better get packing!
---
25 today - old lady. Spend the morning sailing with hubby before bidding him a fond farewell and boarding the plane to Edinburgh. The flight is an ultra-cheap shuttle flight, and beyond all my expectations British Airways serve not only fruit juice, but also little sandwiches, cake and tea! So, with lemon-soaked paper napkin tucked away in my bag "in case I need it" I arrive in Edinburgh. My first visit to the city, and therefore my first pilgrimage to the Mecca of Comedy that is the Festival Fringe. First impressions of the city are that there are a lot of grey pointy buildings, but then again I've always liked Gothic architecture. Too many pipers also - the strains of another tartan spider being strangled in the name of busking can be too much to bear, especially when lugging my huge rucksack around. ZoŽ has made up her mind that the asthma caused by the furnitureless flat is too much, and has found us somewhere nicer and more central to stay - Henry's Flat. (Memories of yellow feline cartoon characters spring to mind). The downside of this is that we have to move out for a few days at the end of this week, but then we can come back. Spend my birthday evening with good friends seeing two impro shows - Steve Frost's Impro Allstars and Baby Wants Candy.
---
Part One - Pleasance Courtyard Blues
Not such a good day - as I have mentioned before, we had to move out today for a few days, so we have been traipsing around town with our bags trying to find somewhere else to stay until Monday. No luck as yet.... ZoŽ's boyfriend Dave has found somewhere to stay, but no room at the inn for us. Also, we have been told by the Pleasance Press Office somewhat abruptly that we are only representing minor publications and therefore may not get in to see Hitchcock's Half Hour as it's selling so well.

I have come to the sorry conclusion that there are two kinds of people at the Fringe - those who have not yet 'made it' and are more than happy to talk to you as an equal and have a bit of fun, and those who are now famous or have some kind of inflated self-importance and therefore feel that they are some kind of superior being and too important to talk to mere mortals such as me. I hope to meet more of the former.
Part Two - The Only Way is Up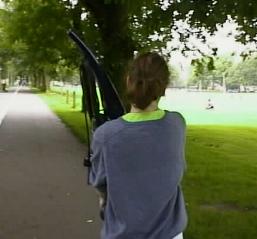 We take the Hoover back to its rightful owners - giving rise to the bizarre situation of the two of us walking through The Meadows discussing the social implications of religion while carrying a Hoover. If you don't believe me, here's photographic evidence.

More accomodation hunting ensues, after I had left some of my less useful baggage in a locker at Waverley Station. We have a deadline - we have booked tickets to see Andrť Vincent at 10.30 and still have nowhere to sleep tonight.

Stop off for a meal in a pub, where we meet one of the all-time great stand-ups - he is visiting from the USA apparently and kindly allows us to take his picture.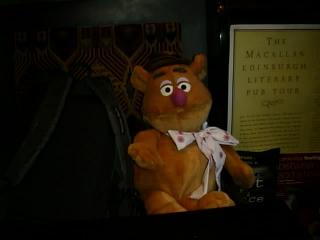 We finally find a place to stay, and rush off in a taxi to get the keys and then rush back to the show - 10 minutes late, but luckily everyone was so impressed by Fozzie coming to see the show they didn't mind us being late!
---
We manage to sneak out of the B&B without the landlady seeing that there were three of us booked into a room for two, and take a bus to the city centre and have breakfast in BHS - if you can call lasagne and chips breakfast. We look like refugees with all the baggage we are having to carry around with us. I decide that I really need to find us somewhere to stay earlier today so that I can leave some of my stuff there. Get a room for the night in Pollock Halls of Residence - the most modern and palatial Halls I have ever seen. Have a well-earned shower and bus back into town.

Can't find the others who are flyering for the Cafe Royal, so I decide to have a look around town, visit the Fringe Press Office etc. Read a review of Andy Smart's show "The Dope" which alleges that he passes a joint around during the show - it's only a matter of time before he gets raided I think... must be after some publicity.

Two reviews today - one is not a show, but a drink... we went to Bannermans in Cowgate and indulged ourselves with their Special Chocolate.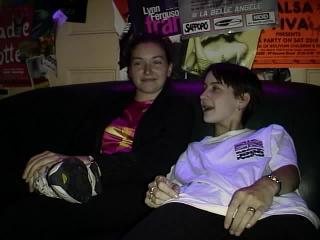 Nice sofas too. We almost fall asleep on one until it is time for us to move on to our show for the evening, Scared Weird Little Guys.
---
Had a great breakfast in a place called Lo Stadio, near the Festival Theatre. The All-Day Breakfast there is £2.50, bacon, egg, two sausages, potato cake, tomato and fried bread - not too greasy either! They also do a special price menu - £5 for three courses. Open til late weekdays.

We go to the Fringe Office to see what is going on - I bump into someone giving out flyers for Boom Chicago, who I am due to review on the 18th. On the way to Bannerman's for the now obligatory hot chocolate, we meet people giving out flyers for a show called "Dorm House 5" (I think) who would win prizes for Effort While Giving Out Flyers - prostrating themselves on the floor and begging...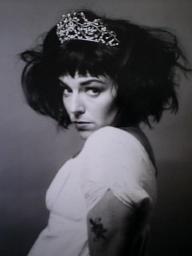 Doon MacKichan, actress and improviser at the Comedy Store and Top Dog, best known for her role in The Day Today, is in a production of Emma at this years festival. Apparently she swam the Channel to raise funds for this. Rather her than me...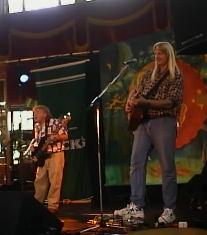 In the evening we see a band called "Trout Fishing in America" under the impression that they were a comedy band. However, they are more witty than funny - and very good guitar players. The acoustic gets such a hammering he breaks two strings in the course of the evening, and the bass player goes into a song called "When the Bass Players Took Over the World" so slickly it seems that broken strings are a regular occurrence. If I was a music critic I'd give them five stars, but I'm here for comedy, so you'll have to wait until tomorrow for another review.
---
Breakfast again in Lo Stadio - this time a bacon roll. While in there we see that even Superdrug are getting into the Fringe Comedy spirit - a passing lorry has a few pictures of Superdrug products on it, and the line "This isn't an advert for our great value range.... it's just a trailer". Groan.

Today I am to visit the local Cybercafes to check out prices for those of you who need to log on while you are at the festival. A nice cuppa in Cyberia, and then on to Web 13.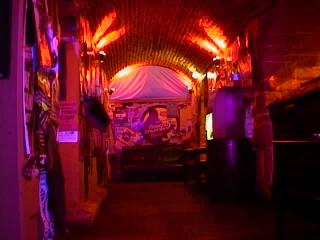 Spend the afternoon in Bannerman's again, it is rapidly becoming our office! It is an old wine cellar - very dark and atmospheric with candles on the tables, but a bit smoky in the evenings. Our old friend Si'n has come up to stay for a few days and we are introducing her to the joys of Bannerman's. People in the room next door must have been wondering why they could hear three female voices singing along to "Puppet on a String" at the tops of their voices.....
We have some lunch there also, a buffet with selections of hot and cold food. Apparantly this evening is Games Night, so we decide to return after the evening's show as we have spotted a very large Jenga set behind the bar.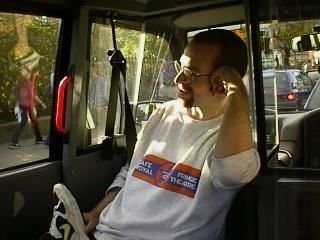 One of Si'n's friends, Elaine, has a flat available that is much nearer town, so the decision is made to live there - which means saying goodbye to Henry. We all feel a bit guilty, and it is left to poor Dave to break the bad news to him. We all have a bit of a guilt trip in the "getaway vehicle".
This evenings show is Carey Marx and Andrew Pipe in "Dupe" at the Cafe Royal, followed by the aforementioned Jenga in Bannerman's.
---
Back to the Diary Index Page