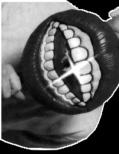 What do the words Steve and Best mean to you? Here are a few answers:
"One of the most original, inventive and physical comics
on the circuit,Steve Bestís act defies description.
One of the great clowns of our time" - Newcastle Comedy Festival
"In a class of his own"
The Times
"Visually stunning and brilliant comedian"
Time Out
"See him!"
The Guardian
"...one of the most inspired lunatics I have ever paid money to see"
Britcomedy Digest Edinburgh 98
"A 'toon in a manís body. He appeals to everyone because
everyone has, at some point in their lives, been five years old."
The High Priestess - Who's she?
"A child on the inside, a child on the outside"
Steveís mother Irene
"Stop clowning around, youíll stain the sink"
Steveís father Robert
His Edinburgh 99 show gets a mention on Stoneranger's website.
He also has a wife and some brothers. I donít know what they make of him.
I've met one of the brothers, Dan. As mad as Steve is.
The wife is called Alex and is not as mad.
---
What do you think? Sign the guestbook and let us know...

Sign the Guestbook
Read the Guestbook
---

---